Girls of the golden west gathered last week for lunch on the wharf. Not only did the weather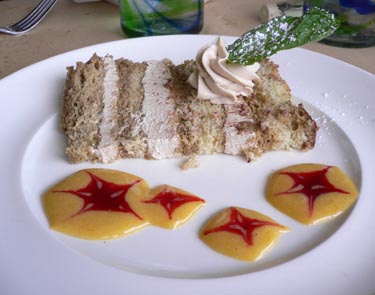 cooperate for an outing with my mom and aunts — Boulder Creek girls all — but we found ourselves joined for a schmoozefest by surfer/philanthropist George Ow Jr (George and I were both born in the stately building now known as Branciforte Plaza) and historian/filmmaker Geoff Dunn (one of the Stagnaro clan).
Turns out my aunt Virlyne Gouin was pals with George's mother Emily, and Geoff knew about other juicy limbs in our family tree. We toasted Geoff's aunt Gilda and recalled some quintessential chowders in days gone by. (It is entirely possible that the tone of our fun was influenced by the excellent Hahn pinot from Santa Lucia Highlands.)
A great time reminiscing, and it was all the sweeter thanks to a superior slice of barely sweetened tiramisu that we shared after pasta and pinot noir. Yes Carniglia's is now a new operation, but the food was fine and the view still can't be beat.