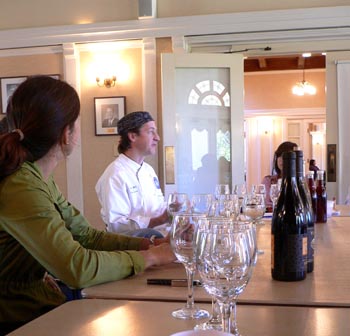 This Thursday, May 20, Vine Hill Winery teams up with top talent from the Cabrillo College Culinary Arts program for a dreamy match-up of wines and menu.
Actually, it's close to the deal of the century. A four-course, $65 prix fixe dinner matching innovative dishes with memorable wines made by Vine Hill's award-winning Sal Godinez. I was lucky enough to sit in on the class in which students sampled wines (instructor Michael Wille shown here), listened to comments from the winemaker, and then began to strategize on ingredients, seasoning and cooking styles to harmonize with the varietals.
Here's what the students have planned.
The first Course involves duck rillettes with eggplant terrine, goat cheese tomato sauce and brioche toast points, paired with Gatos Locos Syrah, 2006.
Second course, matched with Vine Hill Chardonnay 2008, will be sautéed scallops with wilted spinach, green apple and capers. The main course, created to romance the lovely Vine Hill Pinot Noir 2007, is grilled lamb chops with creamy polenta, baby spring vegetables with mint. Dessert of white and dark chocolate bread pudding with rum/raisin ice cream has been tuned to enhance a vibrant Vine Hill late harvest Syrah, 2009, the result of Godinez' skill and some rare botrytis.
Godinez and VH founder Nick Guerero will be on hand in the beautiful Pino Alto Dining Room at the Sesnon House, to introduce the wines and provide tasting notes as we dine.
Michael Wille and his students have prepared an exciting menu. (I am putting my money where my mouth is, and already have my reservations made.)
The multi-course meal will be served from 5:30 – 8:30pm, but you should hurry to make reservations by calling the Pino Alto Room at 479-6524.