Every year Bargetto Winery unveils its viticultural showpiece, a wine carefully nurtured,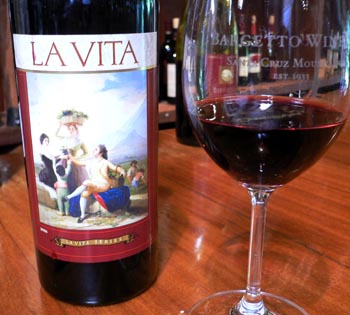 blended and finally chosen to wear the latest La Vita label.
The ninth release of La Vita (vintage 2006) happens this weekend, when a hundred or so friends of the area's oldest winemaking facility will gather on the creekside patio for live music, finger food and a taste of wine. Well, more than one taste perhaps.
"It's a unique blend of three Italian varietals," winery director John Bargetto told me last week, when he showed off the new wine. The blend of estate grapes — Dolcetto, Nebbiolo and Refosco — has been aged for three years in oak, and then one more in the bottle with a label by Spanish painter Francisco Goya.
The La Vita benefit's proceeds always go to a specially designated non-profit in Santa Cruz County, and this year's beneficiary is CASA of Santa Cruz.
The Bargetto family proudly releases this special bottling as the finest creation from its estate vineyards. Come taste for yourself — Sunday, May 23 from 3-5pm (tickets $20).
At the winery – 3535 N. Main Street in Soquel.