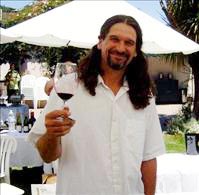 Chef Lionel le Morvan of Ma Maison knows his way around paté. His wonderful appetizers and even more wonderful pistachio macaroons (the kind they make at Ladurée in Paris) were a big hit at last week's New Music Works garden gala.
Now he's met his match—winemaker Richard Alfaro (shown here in a characteristic pose), and next weekend the two will team up, menu and Alfaro Family Vineyard wines, for a special Friday night dinner, May 28.
The menu includes avocado stuffed with wild Dungeness crab, green apple and wasabi dressing—paired with a 2008 Lindsay Paige Vineyard Chardonnay. The entree of range-fed rack of veal will be sauced with spring morels and joined by a 2007 pinot noir also rom the Lindsay Paige Vineyard. Dessert of chocolate and lavender Charlotte is paired with a 2007 Billy K Merlot. All of this, plus an amuse surprise served with a newly-released Alfaro rosé, is priced at $65 (not including tax and tip).
Make reservations quickly! Ma Maison – 831/688-5566.