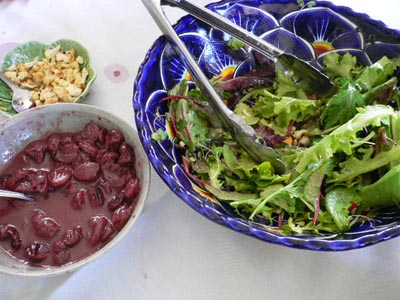 Cabrillo College's culinary students teamed up with the Surf City Vintners for the first annual Dare to Pair food and wine challenge on May 22. And in a nutshell, we came, we munched, we sipped.
Teams of culinary students paired with wine from each of the 12 Surf City wineries took the challenge to dream up dishes that exactly matched the flavor tones of the wines. Then they came to the wineries and did a little "remote cooking."
It was one of those sensual events that made for delicious flavors, plenty of quality schmoozing and more than a little culinary education. The student chefs were credits to the Cabrillo Culinary arts program, and their instructors Mike Wille and Eric Carter, who could be seen cruising from cooking station to cooking station like protective parents.
The results were wonderful, and I encountered a few favorites among all the professionally designed plates.
One of the classiest pairings came from Mia Norton and Katie Hickock (shown here) , w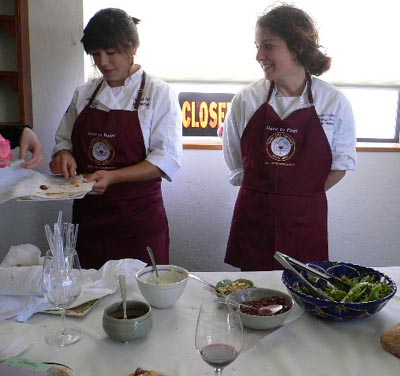 ho whipped up a tart and tasty lamb and goat cheese samosa, served with reduction of blistered grapes (see image at top) and garlicky raita —paired with a MJA Vineyards 2005 cab from Napa.
Another beauty was the rich lamb roulade with pomegranate sauce  created by Emily Nichols and Alicia Heitzman paired with Odonata Grenache made by Denis Hoey, who also works with wine maestro Jeff Emery.
My favorite combo was the buttery duck breast with wild mushroom risotto cooked while I watched by Alexa Bowe and Michael Nguyen. This terrific dish was paired with a wonderful Silver Mountain Vineyard 2007 Pinot Noir from Muns Vineyard. Oh and there were others I loved, like the wild mushroom and goat cheese bruschetta made by Sammy Beeson, Cary Kraft and Curtis Brown, matched with a 2008 sauvignon blanc from Sones Cellars.
So perfect for our wildly talented young chefs and winemakers—I'm betting it becomes an annual event.