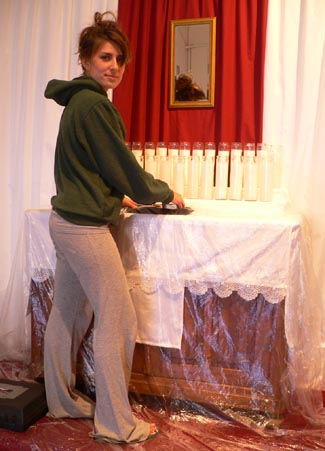 Dirty Dozen: Amy Boewer, one of the twelve Irwin Scholars for 2010, puts the finishing touches on her military industrial altar site in time for the exhibition opening and reception, this Thursday May 27 at 5pm.
Filling the gallery's three studios with innovative (don't miss Carrie Ferguson's high-tech hygiene installation) and haunting (Cahill Wessel's anime-meets-graffiti illustrations) artworks, the show includes pieces by Rosie Chesney, Calen Barca Hall, Nathan Dickersin-Prokopp, Leonel Diaz, JJ Campanaro, Kenny Srivijittakar, Bridget Ho, Laurel Maha and Martha Rodriguez.
Come see what the new wave looks like; reception and awards ceremony, May 27. The show runs through June 12 at the Mary Porter Sesnon Gallery, Porter College, UCSC.