The Certosa di Galuzzo is an enormous cloister dating from the 1300s located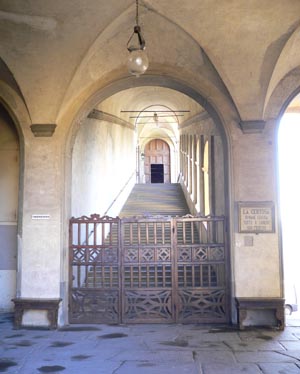 about three miles up into the hills above Florence. In other words, it is situated on one of those stereotypically picturesque Tuscan hillsides dotted with tall black Lombardy cypresses and lots of villas with red tile roofs. Mustard and bougainvilla was in bloom everywhere, quinces falling from the trees and the vineyards were a minute away from harvest.
We took a cab up to the huge stately compound, and the bus back into town a few hours later. In between we joined a tour, along with seven other people, through the opulent chapel, private cells of the Cistercians who still live and work there, and saw the magnificent, faded frescoes made by Pontormo during the plague years in the 16th century. They were astonishingly original – so utterly unlike any of the work done during the same time by Pontormo's colleagues that they appeared as modern as they were idiosyncratic. Back out into the sunlight, we stopped at the certosa's distillary shop to purchase some of the liqueurs made by the brothers – including an herb-laced fernet I can't wait to try.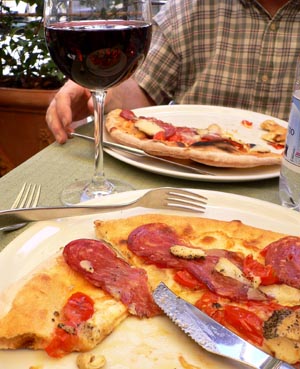 Wandering over toward the Palazzo Strozzi after our return, we decided to try a new wine bar that served us one of the best pizzas of our lives. It's called Bussola, and they served us a pizza topped with pecorino, cherry tomatoes and wild boar sausage along with a huge glass of Chianti Classico from the surrounding hills, vintage 2006. The pizza had that very thin, crisp crust — no tomato sauce, no gooey mozzarella — that distinguishes northern Italian pizza. Absolutely outrageous – and perfect for a light lunch for two.