An evening of Italian wines with Amanda Rehn was not only full of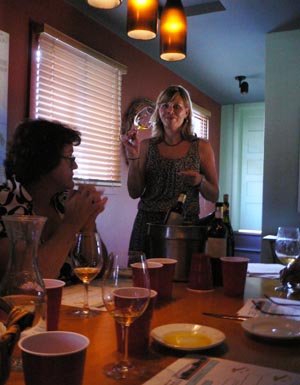 vibrant conversation and saucy wine lore, but provided a dozen of us the chance to actually learn a lot about what's going on in contemporary Italian winemaking.
Three whites and four reds crossed our palates, helped out with ripe taleggio, bread, quince paste and astonishing honey. Of the lot, my favorite was a crisp, complex 2009 Colle Stefano Verdicchio di Matelica, from Le Marche region of central Italy. Gorgeous and easy to drink, it moved from peaches, to salt, into a seductive herbaceous middle, and finished with almonds and violets. The relatively low 13% alcohol kept it refreshing on the palate.
Another revelation was a rustic, earthy Aglianico 2006 Molettieri Irpinia from the very southern Basilicata region. Cigar leaf and roses, bay and white pepper permeated this endlessly appealing wine, the sort of wine that calls out for a Bolognese sauce and more than one glass.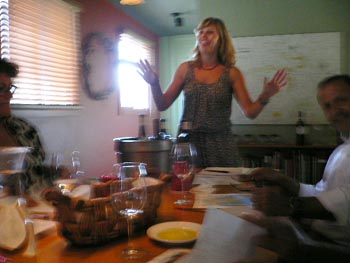 Soif's new wine czarina Rehn is, as you can see a vivacious source of oeno-passion which she off-sets with food pairing suggestions, bits of wine technique lore and a deep knowledge of comparative styles. Quick, sharp and terrific to watch, Rehn provided each participant with wine notes and a helpful map of Italy's various viticultural regions.
I call it the best $40 I've spent all year. If you haven't taken one of Soif's tasty wine workshops, you're missing great flavor discoveries, painless education and a lot of fun.