Italian for "rascal," birichino is also the name of a highly drinkable malvasia bianca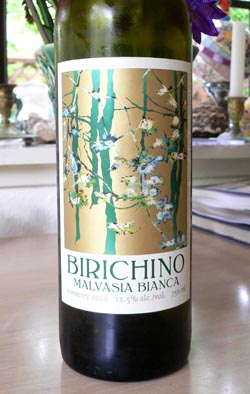 busy quenching discerning thirsts all over central California. Impish and bone dry, this ultra-crisp white wine has been orchestrated by oeno oracle John Locke from Monterey grapes.
A mere one year old, the crystalline creation practically floats in mid-air, offering up hints of jasmine and citrus as it opens. Graced with 12.5% alcohol, the 2009 vintage could go from breakfast to dinner without much struggle. Currently at Soif wine shop for a pocket-friendly $15.