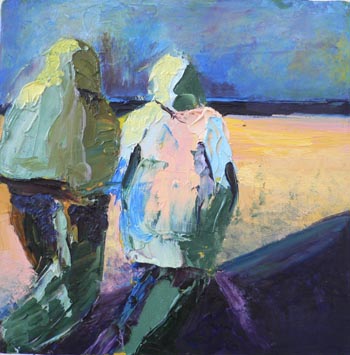 A suite of vibrant paintings in various media by Kit Eastman, is on display through August at the intimate (i.e. tiny) Eduardo Carrillo Gallery. Eastman, a UCSC alumna, works in expressive layers of impasto loaded with gesture, color and the invisible presence of Bay Area figurative masters such as Nathan Oliviera and Elmer Bischoff.
Strolling (shown here) is one of a pair of tiny oils which join a dozen larger-scale figurative studies of nudes embedded with cyanotype x-rays. The series plays with the idea of "stripping bare" the figure in which the interior skeletal anatomy both reveals, and conceals, a voluptuous bodily surface.
The Carrillo Gallery is located within the Baskin Arts Complex, just above the new Digital Arts Research Center, on the UCSC Campus. The gallery is open Mon-Fri, 9-5 all summer long.