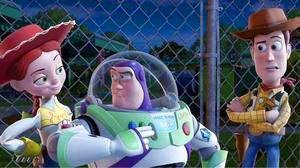 They're all here again, Woody (Tom Hanks), Buzz Lightyear (Tim Allen), Jessie the cowgirl (Joan Cusack)), Hamm, Bullseye, Barbie, and of course Andy the boy who loves all of these spunky toys. In the third installment, Andy has grown up and is just about to leave for college. Woody and the gang are growing anxious — will Andy store them in the attic? or will he toss them into the garbage?
If you loved the first Toy Story, easily one of the most ambitious — and successful — animated films of all time, then you'll feast on this sequel showing once again that the folks at Pixar have no peers in the visual storytelling department.(Certainly the dummies over at Universal won't make a dent in Pixar with the utterly clueless, sappy clunker called Despicable Me. Actually they should have simply called it Despicable and been done with it.)
What's most delightful about the new Toy Story is that it is a tale told in every possible narrative dimension. The plotting is creative, the characters are truly three-dimensional (even if you see it in 2-D), there's rapport even among such unlikely entities as Mr. Potatohead and a piggybank, and the Pixar effects continue to make jaw-dropping magic. Fans of this deliriously watchable series expect all of the above. But what's most rewarding, especially for viewers over the age of 10, is that Toy Story 3 is a feast for adult viewers as well as kids.
If you've ever been a child, played with toys and/or grown up and left home, you will find moments of bittersweet recognition—somehow Toy Story3 manages sweet nostalgia without treacle (again, something Pierre Coffin, Chris Renaud & Co. over at Despicable Me lacked big time).
The sight gags in Toy Story are brilliant. Captured at a daycare center by an evil purple teddy bear named Lotso, Andy's favorite toys spend the night incarcerated in organizer bins that act like wild west prison cells. Because Mrs. Potatohead left one of her eyes at Andy's house, even though the toys are all corralled far away, she can "see" what's happening through the eye that stayed at home. And of course Buzz steals many of the film's best moments. But in a blaze of pure chutzpah, the Pixar team has saved the most astonishing bits of animation for the credits. As the names scroll by, we watch a paso doble danced by Jessie and Buzz, beautifully, gracefully danced, as well as cleverly choreographed and impeccably "lit"—all in ultimate, state-of-the-art digital animation.
Of course by the time the credits rolled by, most of us in the audience were wiping away happy tears.
Toy Story 3 is not just a kid's film. It's a great film.