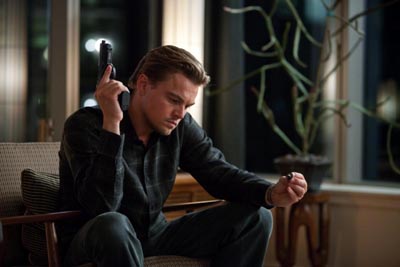 Still haunted by Leonardo diCaprio's beautiful face, taking on gravitas with time, I find it difficult to know where to start with Christopher Nolan's hugely entertaining Inception. From the director of Memento and The Dark Knight, this dream-within-a-dream caper is everything a movie should be. Mixing up cinematic quotes from Mulholland Drive, The Matrix and many a 007 thriller, Inception offers tight script (too tight for those who don't enjoy teasing out interlocking plot lines), mind-boggling cinematography (Paris morphed in on itself is easily one of the most thrilling uses of moving images ever devised), vertiginous editing (in the good sense), a relentless Hans Zimmer soundtrack, and a cast of ridiculously good-looking men dressed beyond Hugo Boss.
Perhaps the final race against time sequences go on ten minutes too long. Maybe there is too much verbal exposition. But I didn't care. I was immediately on board, strapped in and glued to my seat the entire 2 plus hours. DiCaprio's character, a man with plenty of emotional baggage (a dead wife, played by Marion Cotillard, for one thing), is part of a team of highly trained mercenaries who specialize in penetrating dreams, extracting secret information, and—just maybe—planting new ideas into dreams, a technique called "inception."
DiCaprio is hired by corporate magnate Ken Watanabe to enter the dreams of the heir to a rival company fortune. A new dream "architect," a precocious wunderkind played by Ellen Page, joins the team and the caper locks into high gear. Without one pixel of flab, Inception tears through its high-paced moves, stacking dreams within dreams into multi-dimensional layers.
Don't even think about getting up to buy popcorn, you absolutely must pay attention in order to wallow in the richly rewarding ending. An ambiguous ending, to be sure. But to die for.  Inception offers rewards on a variety of fronts, and I again refer to the array of beautiful actors, among other things. Not just for 20-year-old programming nerds.
And, fyi, somewhere around the middle of the second hour of Inception I was able to place DiCaprio's voice. If his face is moving comfortably into the Sam Shephard by way of James Dean range, his voice is solidly Jack Nicholson with a top-note of Joe Mantegna. Nice combo of sensory properties.