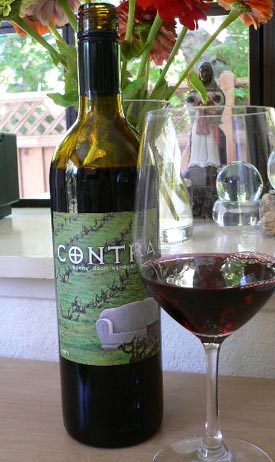 Cloaked in a contrarian label are blended grapes from Contra Costa County (the theme begins to sink in…) transformed into the stuff of great ragu and Gorgonzola delivery systems by the shamanic mind of Randall Grahm.
Priced at $14, Contra sips like a much pricier wine, loaded with dark berries, earth, attitude, autumn leaves and a backbone of spine-tingling tannins. Carignane, grenache, mourvedre, petite syrah, a touch of syrah and yes, even old-vine zinfandel have made their way into the heart of this opulent, dusky creation. 13.5% alcohol and persistent attitude have made it our new house favorite.
Stop by the BD tasting room on Ingalls, ask about the eccentric green label. You'll find out just why there's a couch sitting in the vineyards. Think of it as Randall Grahm's way of helping us get through these fiscal doldrums.
Fourteen bucks. Incroyable!