Wraparound grapevines created a soothing, green backdrop to the al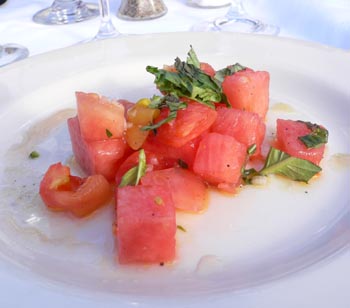 fresco wine dinner we sampled last weekend at Hunter Hill.
Chef Michael Clark brought some of his Michael's on Main team up to the outdoor grill and patio area facing the award-winning winery, and while he turned out a lovely series of courses — from prawns wrapped with prosciutto to rack of lamb and ultra-rich German chocolate cake — we sampled Vann Slatter's vintage handiwork.
Starting with a richly-hued Syrah rosé—my favorite wine of the evening—Leslie and I strolled up to the top of the lawn and watched the cooking action transpire below us.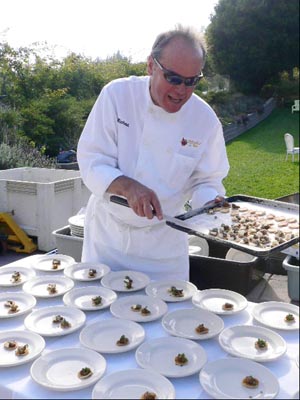 June Smith, founder of Roudon-Smith Winery, stopped by to chat and pretty soon we were sampling a course of Sauvignon Blanc matched with a gorgeous salad of ripe watermelon and heirloom tomatoes, drizzed with pungent fresh basil vinaigrette. An inspired combination of summer flavors, the dish went nicely with the crisp white wine.
After another appetizer of micro-blinis topped with high-wattage, garlicky "caviars" we enjoyed entrees of very pink (the way I like it) lamb, served with orzo and al dente green beans. Port and cake, plus a surprise course of Fiscalini cheddar and apricots poached in port, finished off the delicious evening.
Kicking back between courses, we enjoyed the textbook late July weather and the easy-listening rock classics by Mark Henry. Far from formal —"we're laid-back here," confessed our host,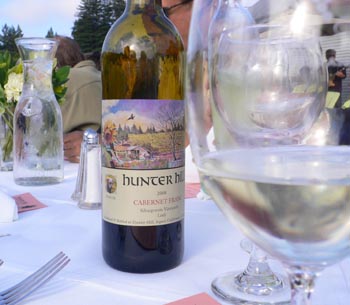 who likes to hunt and tell hunting stories in equal porportion, the wine dinner was unpretentious and offered plenty of wines to sample and pour at will.