Led by Marco Barricelli and a virtuoso cast of Equity actors, this year's Shakespeare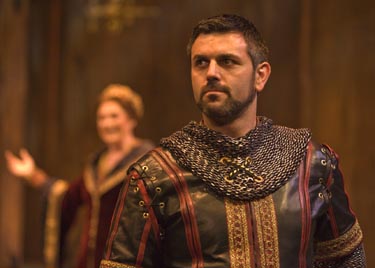 Santa Cruz opener, Lion in Winter, started off with a roar last weekend. Astute casting and transparent directing, by Richard E.T. White, helped power this biting psychodrama to full dazzle. The effect is potent, sobering, and very funny.
Barricelli (SSC's Artistic Director) commands the stage with his richly physical portrayal as King Henry II, yet shares the theatrical electricity with a cast of professionals. As  Eleanor, aging queen-in-exile, Kandis Chappell hurls invective with laser precision, yet shimmers with all the innuendo of a scorned, still loving wife.
Henry and Eleanor's sons are played with bravado and intelligence by John Pasha (Richard, the Lionhart; shown here), Dylan Saunders (John) and Aaron Blakely (Geoffrey). Joined by Philip the young King of France (Adam Yazbeck) whose sister Alais (Mairin Lee) is Henry's new mistress, these outstanding actors take hold of the play's dark domestic dynamics and never let go. Lee, a lovely presence and fine actress, lacks vocal depth.
As Richard, the alpha heir apparent, John Pasha glitters with rage and Freudian resentment. This actor's eyes alone threaten to consume the stage—or what's left of it after Yazbeck, as the gorgeous French monarch, gets through with his flamboyant revelations. Thanks to actors such as these — Saunders and Blakely are equally brilliant as the overlooked second sons — Lion in Winter lingers long in the imagination.
With its acid-etched exchanges, passion of every possible texture, Lion is one of those SSC productions that will be savored more than once by those who can't get enough of big-shouldered, lusty theater.
For my full review –
Lion in Winter, joined this weekend by Love's Labors Lost and Othello, plays through August 29.  Not to miss! [photo:rr jones]