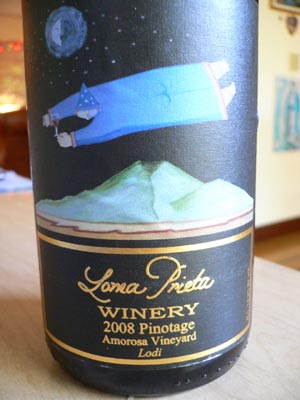 From Loma Prieta Winery comes a statuesque red wine made from rarely-encountered Pinotage grapes, grown in the Sierra foothills.
The locally-made Pinotage — a varietal usually associated with South Africa and produced in only a handful of North American vineyards—is an opulent tipple indeed, offering enough tannic structure to handle its profusion of cassis, ripe plum, black pepper and sassafras. We loved this wine with bolognese and Italian sausage, but on second thought this out-sized wine cries out for steak.
Wine consultant Laura Ness sums it up as, "Pinot Noir on steroids." This is a good thing.
Exotic and accessible, the Loma Prieta Pinotage 2008 is available at the mountaintop winery, and at Vinocruz ($45).