The pizza crust was parchment-thin and addictively delicious. The handmade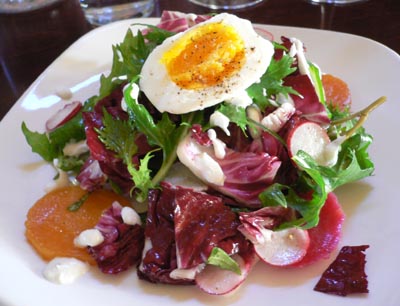 salume assortment might have brought any Genovese to his knees. And the delicate cannelloni, slathered with roasted heirloom tomatoes and filled with ricotta. Oh!
La Posta, on Tuesdays, when the fiercely romantic melodies of Italian folktunes by Emily and Paul Rangell make you want to never go home, is by now enshrined in the hearts of local diners who acknowledge the economy, but still refuse to compromise.
Catherine Stern's kitchen continues to conquer.
We four began with a shared pizza topped with yellow tomatoes and caramelized onions. It disappeared within minutes.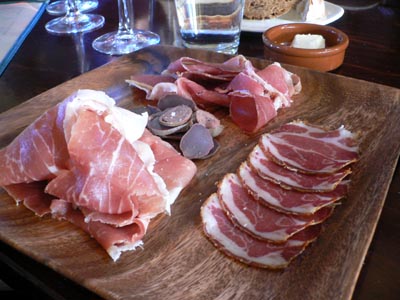 Then came a salumi misti sampler of prosciutto, salame and coppacolla perfectly cured and tinged with earthy nuance, which I consumed along with a salad of bitter greens, orange beets, horseradish crème fraiche, warm radish slices and topped with a gently hard-boiled egg from the pampered flock just outside the restaurant's back door.
There was cannelloni, and chicken joined by peppers, and there was a dramatically simple entree of halibut, encrusted with herbs atop a field of infant spinach and fresh shelling beans laced with pancetta, leeks, and escarole.
We all sighed often during the meal, which was handsomely washed down with a variety of Sangioveses, Frappatos and Nebbiolos.
Look for me there next Tuesday — I'm hooked. La Posta – near the end of Seabright.