Still high on a flavor-intensive sampling of handmade, all-organic chocolate ice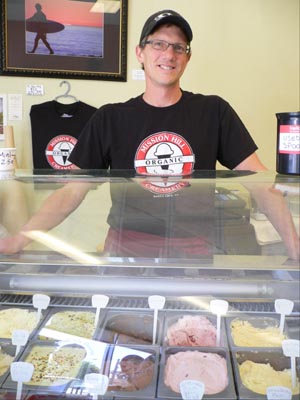 cream from Mission Hill Creamery, I need to figure out how I'm going to live until my next visit to the five-week old ice cream mecca. Scooped up by chef/owner David Kumec himself, the samples absolutely knocked me out. I was treated to a strawberry ice cream with actual, deep summer ripe strawberry flavor. Then something tart and nostalgic called Orange Creamcicle (tastes just like it sounds!).
Next came the chocolate, loaded with artisanal chocolate bits amidst its sinfully dark chocolate creaminess. Yes, everything is organic! But somehow Kumec had saved the best taste for last. Pistachio. Pistachio the way it must have tasted in the Garden of Eden. Deeply earthily nutty, and yet like butter in its texture. I literally groaned right there in front of his fully-loaded ice cream display.
The flavors change daily Kumec told me with a sly smile. (Check his Facebook page for updates) All dairy is from fabled Strauss up in Petaluma, and all the fruit comes from our local farmer's market. But the skill is 100% Kumec, learned from an Italian master. And it shows. If you love gelato, you'll go stark raving mad for Kumec's creamier-than-thou ice cream.
Mission Hill Creamery is housed in the front of the very conveniently located Culinary Center of Santa Cruz kitchen, at 504 Front Street @ Cathcart (close to the new India Joze). Open from noon until 8, until 9pm on weekends, and Closed on Monday, MHCreamery puts some delicious "art" into "artisan."
Get over there immediately!!!