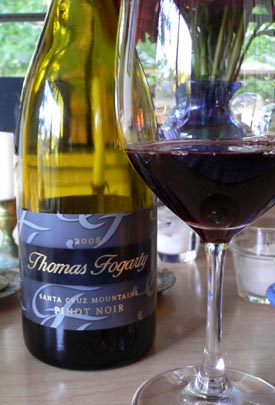 It's the first Santa Cruz Mountain pinot noir from the 2008 vintage I've tasted, and now I know why this beautiful creation from Thomas Fogarty Winery took a gold at the recent SF Chronicle competition.
This full-throated wine is loaded with complex aromatic information, and the flavors just go on and on. Dark plums and tamarind, an undercurrent of licorice and bay leaves, a suggestion of tangerine peel and black pepper — all of these gorgeous notes are delivered by a prime 14.1% alcohol content. Enough to carry the experience, yet definitely not engaged in the fruit bomb California stereotype.
Within reach too, at under $22 a bottle. Try Shoppers and New Leaf, but definitely try this lovely pinot noir.