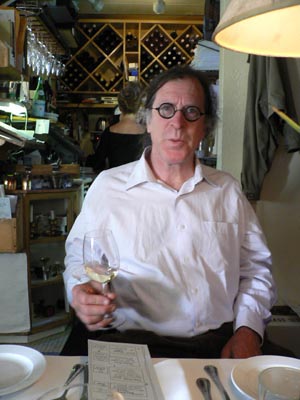 Bonny Doon Vineyard will host a special dinner to commemorate the recent bottling of the 25th vintage of Le Cigare Volant. Taking place on Friday, October 15, at the Cellar Door Café in Santa Cruz, the menu will include retrospective wine flights of library wines and unreleased vintages of the flagship southern Rhône-style blend. This is a rare chance to taste the most consistently laudable wine made by BDV, introduced and deconstructed by the winemaker himself.
Winemaker and President-for-Life Randall Grahm will host the evening's celebration. Cellar Door Executive Chef Charlie Parker will create the food pairings to complement these rare vintages.
October 15 – 6pm, $125 per person, ($100 for Club Members) multi-course dinner including wines, Le Cigare Volant flights include a splash of the 1991 (!) and each are matched with such dishes as:
Foie gras torchon with grapes, black pepper and brioche; black cod with little gems, sunchokes and brown butter; roasted squab with farro and pomegranate; cider-braised short ribs, the legendary époisses cheese with wild-flower honey and housemade bread.
Dessert involves a pear tart with lavender ice cream, paired with the etherial 2007 vol des Anges. Full menu.