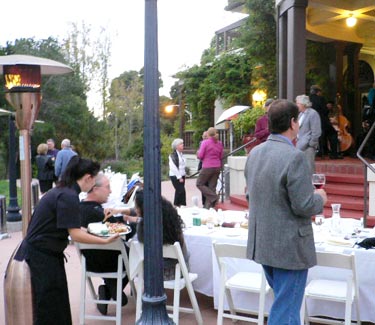 The lovely Pino Alto dining room at Cabrillo's historic Sesnon House, formed a graceful backdrop for some cool jazz and exciting food and wine pairings last Wednesday evening.The highlights for me were the elegant sounds of Hot Club Pacific trio (who also hold down the house at Soif each Monday night), and the well-trained students from Mike Wille's advanced culinary class, who served, cleared endless dishes and stemware, and served some more throughout the evening. The evening, this year's version of the recent "Dare to Pair" wine & food event, marked the mid-term exam of Wille's young team.
Another highlight was an engaging match of salt cod simmered in an intense tomato and caper sauce, with a floral-yet-crisp 2008 Gewürztraminer from Pelican Ranch Winery. Really a fine combination, as was a beautifully-balanced 2008 late harvest Zinfandel (named "Fashionably Late") from Sones Cellars. It proved a memorable wine which went nicely with a delicious trio of flavors – chocolate, caramel and zinfandel layered into a parfait version of panna cotta. Also luscious were opening appetizers of crisp sardine flash-fried in a sage batter,  dipped in aioli. This beauty was served with tastes of a garnet-hued Bartolo Grenache.
A 2006 Cabernet Sauvignon from MJA Vineyards (based in Napa, but with a new tasting room in the Surf Vintners complex) was a smart match with the student's attractive beef carpaccio course, loaded with shaved parmesan, pungent arugula and plenty of truffle oil. Like every single plate we enjoyed, this one was impeccably designed to heighten visual appeal.
The Italian-themed menu, with interesting wines, gave us a great chance to schmooze with winemakers from the westside's Surf City Vintners collaborative, including Michael Sones, Jeff Emery and Jerold O'Brien. How thoughtful of the culinary students to provide not only outdoor heat lamps but an almost-full moon as well.