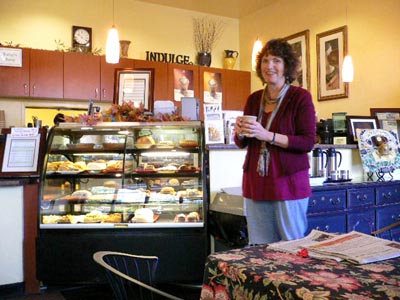 A dead-ringer for author and film critic Lisa Jensen was seen last week noshing on some fruit-filled pastry and swilling coffee at the Live Oak Cafe, a surprisingly serene oasis tucked into an industrial park off Soquel Drive.
The cafe is open for coffee, pastries, breakfast and lunch (which includes a highly celebrated housemade meat loaf). This is a real gem, with plenty of room to spread out and talk, read or catch up on e-appointments, at cozy indoor or outdoor cafe tables. Whoever did the succulant plantings at this complex should be congratulated.
It's a hidden gem, worth looking for (just off the Chanticleer and Soquel frontage intersection), or as a meeting place for when you've got Cultural Council of Santa Cruz shop talk on your agenda.  Who knew?
Live Oak Cafe – 5400 Soquel Ave., 475-7757.  6am-4pm weekdays, 7:30am – 2:30pm Sat & Sun.