The vehicle for legendary tenor Placido Domingo's final salvo with the SF Opera, was a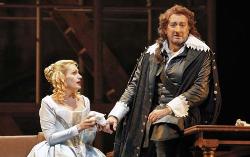 rarely-performed Cyrano de Bergerac. Composed in 1936 by Franco Alfano (a second tier workman known best for his underwhelming completion of Turandot after Puccini's death), the opera swoops and froths its way through Edmond Rostand's classic play. It is a delirious and often silly pastiche of between-the-wars musical schizophrenia, but there are about 25 minutes of breathtaking musical lines in all of this — and they belong to Domingo.
If his voice has been stronger, the highest registers more brilliant, c'e niente. Domingo's voice is a wonder of sonic architecture and in this first performance of the season's Cyrano, he showed why he can't leave the stage just yet. With a gorgeous Roxane in the form of Basque soprano Ainhoa Arteta, Domingo unfurled his vocal sumptuousness as he positioned himself under his beloved's balcony, disguised himself as her handsome paramour Christian, and began to pour out his love.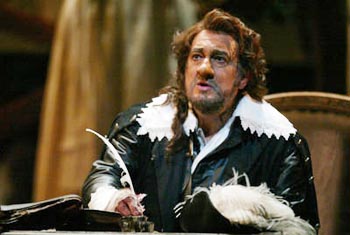 The power of Domingo's still beautiful voice convinced us that he was not a 70-year-old veteran whose tenor is mellowing into baritone. He was instead an ardent, vigorous and full-throated suitor. It was frankly surprising to hear just how good he sounded, and how convincingly he enacted the role of a lover wooing the lady for someone else. Especially knowing that Domingo made his San Francisco debut over 40 years ago!
A few words about the production. Placido Domingo was THE reason to see this opera, and the audience was wildly affectionate. Arteta's soprano, while dazzling in its lead crystal high notes, also devolved into a vibrato you could drive a double-wide trailer through. And in the last half hour of the production, she simply refused to control this obfuscating vocal tic.
The production, borrowed from a French company, was blatantly over-wrought, filled with gymnastic Gascon musketeers and needless men in groups singalongs. The orchestra was so loud—with a few gratifying exceptions—as to obscure most of the singing by most of the cast.
Having said that, it was wonderful to see just how generous the maestro, Domingo, was to the others on stage with him, insisting that they take myriad bows and giving ample appreciation to every single member of the cast and crew.
On February 26, the Metropolitan Opera live HD simulcast will present Iphigenie en Tauride, starring Placido Domingo. Make plans to enjoy the vintage tenor at a participating theater.
It will be abundantly clear why his reputation has remained solid after a very long career.