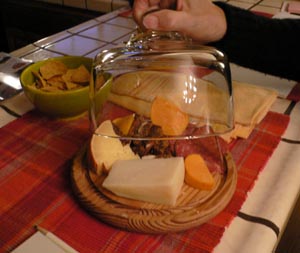 Some people taste-test tortilla chips, we sample sparkling wines.
My self-imposed assignment was to find out just whether a really cheap sparkling wine could be a decent tipple, as opposed to something you'd pour for out-of-towners at your second wedding, or at a fraternity house New Year's Eve party. And to help us through this grueling pre-holiday exercise, our mega-hostess friend Angie provided a few designer nibbles (cheese, dates, quince paste, artisanal salami) to go with a recent trio of low-priced sparkling wine. We added a plate of smoked salmon rosti from Gayle's, sliced into attractive segments, which made for a very generous partner to our bubblies.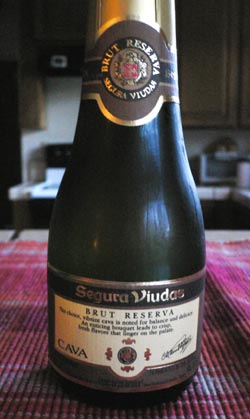 We began with a tiny demi-split bottle of Segura Viudas Brut Reserva, a super cheap cava that came with a screw-top. Not promising? Think again. Even though it lacked that celebratory "pop!" it did fill our flutes with a steady stream of micro-bubbles. The surprisingly dry toasty tipple was extremely fresh and crisp on the palate, with a minerally finish. Extraordinary considering the large, full-size bottle of this stuff costs a mere (are you sitting down?) $6.99. Yes, that IS less than the price of a glass of decent bubbly.
Next we sampled a Mumm Napa ($5.99/1/4 bottle).
"Dry through and through," said one of our tasters – like "liquid oxygen" said another. "It disappears in the mouth."  Another thought it fell into the neutral zone, a "lazy dry." And I had to agree that this very flavor recessive, albeit extremely inexpensive bubbling was best reserved for late-night toasts at that 50th anniversary.
Faring best of all was the most expensive of the trio, yet still cost-effective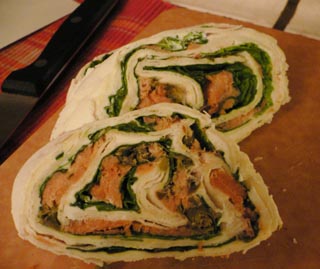 Gruet ($13-!5 depending on emporium) Rosé, a gorgeous salmon-hued blush, crisp as pink Himalayan salt, and extremely clean on the palate. "It invites you in with the beautiful color," said one taster. I loved the sexy color, and the very dry yet fruity flavor.
Pour Gruet without apologies. And since it is made in New Mexico, it's also a guaranteed conversation piece.