Leggy and statuesque, blonde Finnish soprano Karita Mattila shredded the scenery and chewed up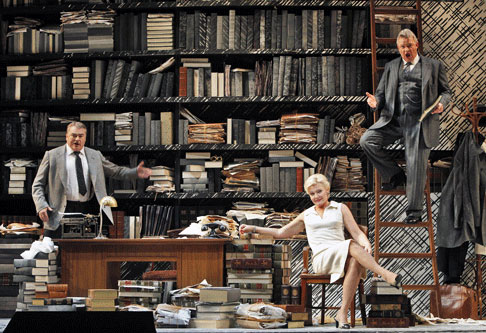 the remains during the final performance of Leos Janácek's The Makropulos Case, last week at the San Francisco Opera.
Her confidently reckless stage presence and vocal command of the unusual role brought the audience to its feet during the final curtain.
Yes, this IS why people make the considerable commitment to feast on live opera. Surprising moments of musical chemistry, brilliant touches of lighting and costuming, and a powerhouse denouement worthy of the word "operatic."
Aided and abetted by the brilliant SF Opera Symphony, led by Czech guest conductor Jirí Belohlávek, Mattila brought to life the rarely-done opera about a mysterious formula for extending life and the world-weary femme fatale Emilia Marty (Mattila) who has seen it all in her three centuries of life.
Just over two hours in length, the 1920s opera is essentially a vehicle for one diva and five supporting men. But even with these technical limitations, the production was mesmerizing. Thanks to the bravura performance – and vocal power – of Mattila, who is possibly an even better actress than she is singer.
The plot is cumbersome – in fact most of the principals spend the entire first Act "explaining" all that has brought their characters to this moment. And the direction was often ludicrous and distracting, as when our leading lady was encouraged to indulge in irritating physical mannerisms, and was costumed during the entire second act in ugly clown garb. But the final act, in which Mattila sings Marty's final incandescent hours, clad in a black slip and reclining voluptuously on the white sheets of a central rumpled bed, was electrifying.
The score – part Richard Straus, part Berg, in mercurial expressionistic mood swings – offered a brilliant musical seismograph of the tensions of eastern Europe between the wars. And the orchestra's deft performance seemed literally to pour from the conductor's fingertips.
Word is that Mattila is preparing for an upcoming Salome (by Straus) at the Met – and one can only imagine what her voice and sensuality will do with this role.