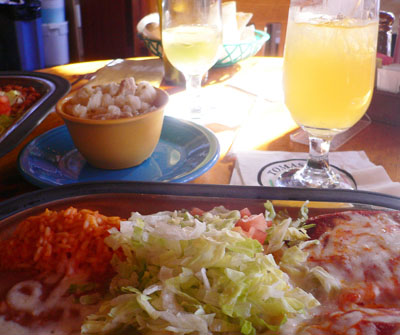 Last week I sat down to a substantial platter of red chile tamales, accompanied by a fat moist green chile enchilada, a helping of buttery pinto beans and Spanish rice so nuanced and tasty I almost wept.
For this — plus a crisp sopapilla and honey butter — I paid $8.95. For another $8 I sipped a tall call Margarita made with my all-time favorite Tres Generaciones tequila and fresh-squeezed limes.
You might have guessed by now that I was no longer in California.
You'd be right. I was in Santa Fe New Mexico eating ridiculously robust southwest cooking at Tomasita's, a landmark across the tracks from the old Santa Fe railroad depot.
Tomasita's, a local legend filled with local legends, looks for all the world like a big tourist trap. Ristras of dried red chiles festoon the cavernous main dining room, and a blaze of vintage tilework lines each wall. But this is no tourist trap. The food is astounding, loaded with the two-fisted flavors you come to crave and expect from this old west postcard town high in the Sangre de Cristo mountains.
Yes you do trip over well-made red and green —Christmas— chile in Santa Fe, but Tomasita's holds its own against more designer shops.  It's at the front-end of Santa Fe's exciting new Railyard complex of galleries, shops and sensational Saturday farmers market.
Tomasita's is located at 500 S Guadalupe St. but if you're coming in from Albuquerque, it's impossible to miss at the gateway to the historic old plaza. And it's open from 11am – 10pm every day except Sunday.