Amidst the holiday wreaths of crimson chiles, the jalapeno jellies, organic goat cheeses, wild-gathered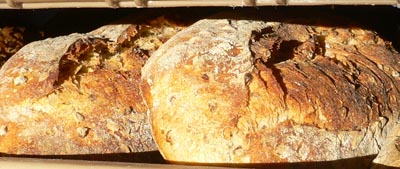 herbs and local honey, there was memorable bread. Memorable.
Wish I'd gotten the name of the bakers who sold me a square of fresh plum and almond open-faced "croissant" that was remarkable in its true flavors and crystalline crust.
The market, lots outdoors but even more inside the large, grange-like building that Santa Fe has built just to house its weekly gathering of growers, offers fresh-harvested produce, candles, soaps, hand-crocheted items, and loads of shelling beans and peppers for home-made chiles. But there were also acres of dried herbs and exotica such as a native plant alleged to prevent colds. Called osha (Ligusticum porteri), the dried root had an aroma akin to licorice and I couldn't resist the low-key sales pitch of a man clad in lumberjack shirt and silver jewelry.
A slab of fresh piñon nut fruit cake was so tempting, but I stopped myself. I knew what TSA would do with it at the Albuquerque airport.