Perhaps not as pressing as the NFL playoffs, but much tastier.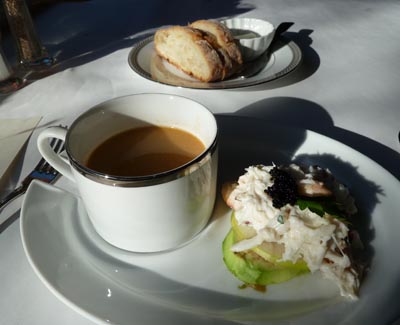 Last week, you'll recall, I traipsed all over the county sampling imaginative and just plain delicious creations showcasing fresh Dungeness crab. I also tasted some of our top local wines. It was the sort of grueling work that spawns envy and Schadenfreude among my friends.
After much tasting I ended up in the golden sunset light of Cafe Cruz, and dutifully filled out my Judge's score card. Here are the results!
Best Dish – the knock-out crab and basil-laced bisque at Cafe Cruz.
Best Presentation – the witty and elegant cup and saucer bisque and crab/avocado stack topped with caviar at Ma Maison served tableside by uniformed wait staff (shown at top of post).

Most Creative Dish – the crab quenelles, crowned with a crimson crab claw at Paradise Beach Grille
Best Experience – The sunny deck, the incomparable view of the blue ocean beyond the cypresses, the attractively laid-out crab dishes, good-looking winemakers at Sanderlings….well my personal vote was for the live music, view of the ocean and lively winemaker chat at Paradise Beach Grille. But why quibble.
Congratulations to all the hardworking chefs and their kitchen staffs, the winemakers, and to the team at Santa Cruz Mountains Winegrowers who put together this well-attended chance to sample some of the best of our beautiful slice of California.