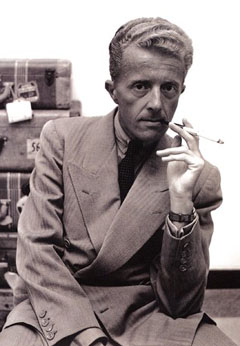 and plenty of it.
Starting this Wednesday, February 2,  there's a reception for the opening of two shows at the Sesnon Gallery in Porter College. Free. One features a retrospective of the pioneer video installation genius of Ant Farm founder Chip Lord, whose most recent large-scale work was a commission for LAX. Come see the elegant videographer/conceptual prankster discuss "Public Spaces" at a reception from 5-6:45pm. . . . Next door catch the collection of intaglio masterworks by the late painter, surfer, magician Geoff Morten, in Sesnon's Faculty Gallery. . . . But wait! There's more!
On Thursday, February 3, über actor, director and professor of Theater Arts Paul Whitworth is the honored presenter of this year's 45th Annual UC Santa Cruz Faculty Research Lecture, "To Be… and… Not to Be."  That's at 6pm on the UCSC Mainstage Theater.
And starting on Friday, February 4, the public is invited to come and feast on a three-day series of discussion, talks, films, performances and exhibitions all celebrating the extraordinarily creative life of composer, mentor and author Paul Bowles (shown above). Highlights will include the live performances of song, string ensemble and two-piano works to be held at the Music Center's Recital Hall. Don't miss Saturday's 1:30 reception at the Eloise Pickard Smith Gallery (Cowell College) for Bowles memorabilia as well as a separate show of recent lithographs by UCSC print maestro Paul Rangell.
Consult the UCSC Arts Events website for complete details of all these memorable events. They are all FREE. Not to miss.