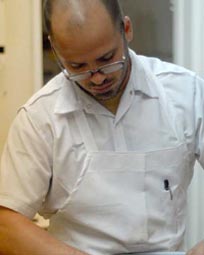 You remember the guy who gave us that sensational charcuterie a few years back?
Justin Severino from Severino's who sold terrific artisanal meats at the farmers markets here in Santa Cruz?
Justin just emailed to tell me that his highly-regarded culinary style at Elements Contemporary Cuisine in Pittsburgh, PA, is up for Food & Wine magazine's Top Chef/ Mid-Atlantic Region competition.
Success couldn't happen to a nicer, smarter chef — too bad he's not still dazzling our tastebuds here in Santa Cruz.
Check out Severino's award-winning menu! Your mouth will water, I guarantee.
[photo: Tana Butler]