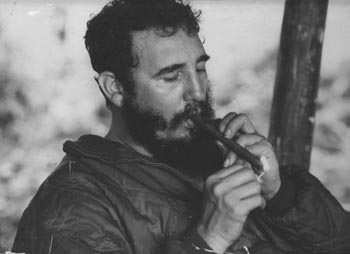 Longtime policy analyst, filmmaker and historian of the Latin American revolutionary scene, Saul Landau comes to town next week for a screening – March 2 at 7pm – of his new documentary film Will the Real Terrorist Please Stand Up?
Sifting through the knotted entrails of US/Latin American relations over the past 50 years, Landau has unearthed priceless eye-witness interviews, rare footage of Fidel Castro and disturbing evidence exposing the criss-crossing trail of "extreme prejudice" between Washington, Miami and Havana.
While most of us have forgotten the convoluted steps leading up to the Bay of Pigs showdown, Landau has not. Reinforcing key scenes with actor simulations, director Landau re-creates the sordid saga of organized crime taking over Cuba with the blessing of the CIA (or was it the other way around?). Exposing US ties to crime and corruption, he gets us close to many of the original sources of dissidence during the troubled months and years after the 1958 revolution.
Through expert interweaving of footage, narration, archival materials and eye-witness accounts, Landau (shown here) wrestles with the question of whether we responded to, or caused the "war of invasion" against Cuba.
Will the Real Terrorist is a mesmerizing saga of an almost comically tragic episode in American history — loaded with political gangsterism, assassination attempts, and frequent bombings in Miami by anti-Castro nationals – dubbed "violent exiles" by the US media.
The film pivots upon the activity of the Cuban Five, who in 1990 tried to rescue refugees attempting to escape Cuba, after the US embargo and the anti-tourism PR campaign all but sunk the Cuban economy.
The most intriguing part of this film, for me, was the articulation of our collective "obsession with Fidel" – how this country's successive administrations harrassed Castro's every word and deed. There's even eerie footage of a popular and violent video game targeting the aging liberator (or dictator, depending upon your POV).
Landau's latest documentary exposé about the disturbing aftermath of the Cuban Revolution will be screened on Wednesday, March 2 at 7pm at the Live Oak Grange, 1900 17th Avenue ($10 donation). Reception with Saul Landau at 6pm, drinks, cake and political wisecracks – $25, (includes screening of the 80 minute film).