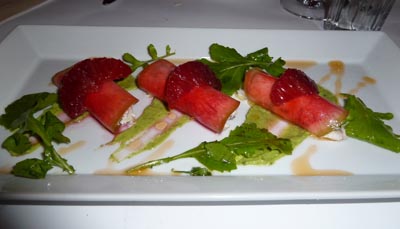 The chef with the intriguing name has moved into the top slot at Gabriella, after a year getting to know the kitchen and clientele.
We sampled some of Delosil's beautifully presented plates last night and came away smiling. Gorgeous beets, gemlike Dungeness crab involtini, and an astonishing plate of risotto laced with wild nettles and golden chanterelles.
To create the clever involtini appetizer (shown here), chef Delosil tucked fresh crab into curls of watermelon radish, then amplified the flavors with careful islands of arugula, red baby grapefruit, avocado puree and chili oil. Stupendous. And high-wattage gorgeous.