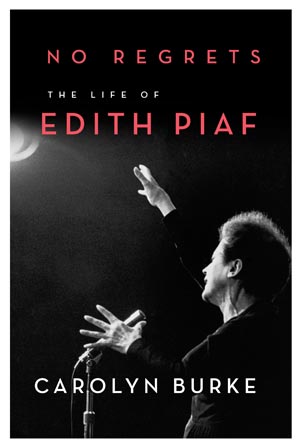 Santa Cruz-based author and coffeehouse habituée, Carolyn Burke, has done it again. Deepening her reputation as an historian of French modernism, Burke has published an accessible and richly-detailed saga of the life, loves and career of French chanteuse Edith Piaf.
Burke will appear at 7:30pm on May 5 at Bookshop Santa Cruz to talk about her literary quest for details, friends and lovers of the iconic "little sparrow" who defined world-weary toughness and courage during the war years in Paris.
No Regrets is a work of scrupulous research—though it must have been a biographer's dream to interview some of Piaf's many lovers. Detailed yet absorbing, Burke's new book will thrill fans of the colorful cabaret star and will appeal equally to those who barely know of the legendary French songstress.
Without descending into gossip, Burke's research uncovers the lurid longings as well as the almost superhuman stamina of Piaf, signature traits which fueled the singer's eventual decline into drug and alcohol excess. Poignant and candid, No Regrets turns compelling narrative into an out-and-out page turner.
Influential star-makers, from Maurice Chevalier to Jean Cocteau appear in these crisply-written pages. And Burke has compiled conversations and quotes that reveal the psychological complexity of the tormented singer, who captured the weary hearts and minds of Europeans before and during the second World War. "She transcends herself, her songs the music and the words," observed French surrealist Jean Cocteau. "It's no longer Madame Edith Piaf who sings: it's the rain falling, the wind sighing, the moon spreading her mantle of light."
Yet the real tale is told in how Piaf met, charmed, romanced and ultimately abandoned an astonishing series of European actors, singers and celebrities. Always haunted by her early childhood in the backstreets and outskirts of Paris, Piaf never quite believed in her own personal appeal. She knew she was a star, but her insecurities about friendships and loves eventually plunged her more and more into dependency upon drugs and alcohol. It is a familiar show business story.
The highs and lows—many of them—of Piaf's life are indeed the stuff of soap opera, especially Burke's accounts of Piaf's lifelong failure to find lasting love. The diminuative singer's famously troubled romances, especially with Yves Montand and Eddie Constantine, were matched by her inner torment. She was in many respects France's very own Judy Garland.
No Regrets offers an absorbing chronicle of a period, a people and the petite chanteuse with the big voice, who won hearts and minds during the middle of the last century.