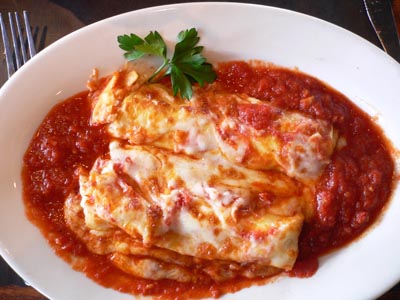 If you had told me I would have to go to the Jersey Shore to experience manicotti so good that it would make a goodfella cry, I would have told you to "fageddaboudit."
But I did. And at Joey's, a big, friendly, non-designer pizza and pasta joint in Manahawkin, NJ, I had manicotti from heaven, and more. Ravioli stuffed with ricotta and smothered in a serious meat sauce. Chicken breasts simmered in garlic and mushroom sauce that had me ready to genuflect. Each of these dishes was under $10 btw – no I wasn't in California anymore.
But if you ever get close to Rte. 72 and Garden State Parkway, just a few miles from the Atlantic, you need to think seriously about dining well, and cheaply, on Italian-American food that literally breaks the mold.
Joey's – unbelievably delicious, confidantly-prepared big-hearted food.