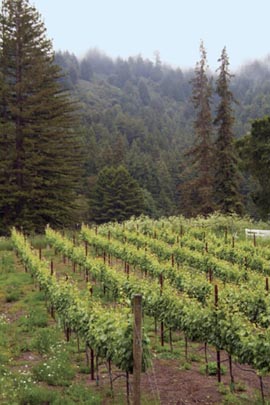 Make plans for a day in the country – this Saturday April 23 – for a visit to the brand new tasting room at Windy Oaks Estate, in Corralitos.
Especially beautiful this time of year, the rolling vineyards above Corralitos now boast a new venue for the Pinot Noirs and estate Chardonnay created by Jim Schultze and his family winemaking team.
From noon to 5pm this Saturday (and every Saturday from now on) the tasting room is open for free pours of new releases—including the 2009 "one-acre" Chardonnay and the 2008 Proprietor's Reserve Pinot Noir, plus appetizers, cheese, Corralitos sausage and live music.
Bring your favorite easter bunny— please call to RSVP, 831.724-9562, so Jim and Judy can put your name on the list — and come up for this hilltop Grand Opening. ( If you don't RSVP, there will be a $15 tasting fee.) You can find out how to get to the winery at 550 Hazel Dell Road, by following the directions on the website.