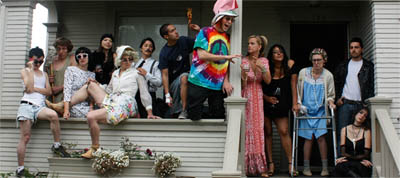 Come celebrate 25 years of awarding scholarships to top UCSC art students, thanks to the bequest of William Hyde and Susan Benteen Irwin.
This year's crop of exhibiting artists includes Raphael Cornford, Richard Desanto, Ellia Sarah Duhart, Luis Flores, Olivia Healy-Mirkovich, Sakura Kelley, Joseph Lai, Bela Messex, Kelsey Spencer, Kirsten Spooner, Leslie Thompson, Chelsea Ware, and Luke Wilson (all shown here in typical art student attitude, photographed by Sakura Kelley.)
The Reception is this Wednesday, May 25 5-7pm, with an awards ceremony @ 6pm.
Come enjoy artwork that authentically deserves the term "cutting edge."
For details, contact the Gallery, at Porter College on the UCSC campus. The Irwin Show runs through June 11, 2011.