With Marcel Proust gracing the witty label, Bonny Doon Vineyard's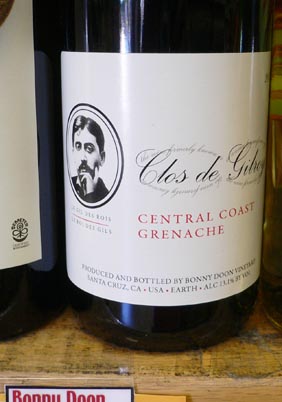 relentless Clos de Gilroy Central Coast Grenache has reached new likeability in its 2010 installment. Full of spice and cherries, this lovely and highly drinkable (as in "drink it immediately") thinking woman's vin ordinaire offers a huge helping of grenache framed smartly with syrah and mourvedre. A Rhône you can believe in with bouyant regional terroir.
We poured it with our Labor Day bbq of grilled chicken and cannellini beans. Yes indeedy this wine adores all foods that have been grilled, cooked or consumed outdoors.
Mercifully priced in the $15 ballpark.