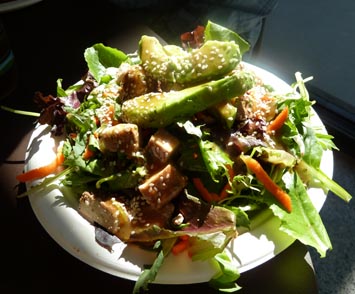 We checked out the new Global Village Cafe—loaded with the fabulous aromas of Santa Cruz Coffee Roasting company espressos and stocked with pastries, soups, smoothies and even ice creams from Penny Ice Creamery. The Cafe, managed by Adam Hoffman, is very strategically located at the entrance to the newly expanded UCSC main library and provides aid and comfort for students who want to work the computers and finish their homework, without experiencing blood sugar crash.
Things are still being finetuned as far as how fast your order number is called, but the flavors are definitely not generic food service. An example: this beautiful and enormous salad of smoked tofu, avocado and mixed greens from the Farm & Garden. Topped with sesame seeds, lots of carrots and a vibrant lime sesame cilantro dressing, it was a meal for two for $5.50.
Another example: I pigged out (yes I did!) on a cup ($3.50) of Penny Ice Creamery ice cream, vanilla, studded with pistachios and candied grapes—very new world spumoni. It was barely legal.
Okay, so the Global Village Cafe is longer on fresh food —exceptional pastries and cookies!—than it is on ambience. But this is a library foyer for crying out loud. And a beautiful one by any standards.