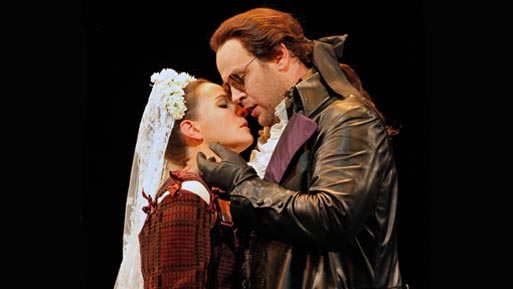 If you think it's not possible to ruin Mozart's mighty trickster masterpiece Don Giovanni, think again. The new production currently underwhelming audiences at the San Francisco Opera is a directorial mess studded here and there with some tremendous singing and two juicy leading men.
Wait, let me unload further. Not only does guest director Gabriele Lavia utterly fail to comprehend what the story is about and how people create visual excitement on-stage, but his ineptitude is soundly matched by a set from hell (and not the kind awaiting the Don at the end).
Whoever thought that hanging twenty wobbly mirrors from the ceiling and calling it a "set" would create atmosphere? A fool, possibly. All this pastiche does is distract every time someone walks, or crouches, or sings near one of these floating, annoying mirrored panels. Recession set design without a clue.
Shame on music director Nicola Luisotti for schizophrenic pacing that has some arias spewed forth at break-neck speed (without dramatic motivation), and others—such as the soporific parting shot, "Non mi dir" from Serena Farnocchia's Donna Elvira—paced as an exercise in sheer will power. It should have brought the house to its feet, instead of to yawns. Not since junior high school recitals have so many fine singers simply planted themselves centerstage and gone through the motions without one iota of dramatic insight.
Ah, but there are exceptions. A handsome and believable Don Giovanni, Lucas Meachem, wielded a rich, darkly seductive baritone and owned his part as the swaggering, leather-clad lady killer. His match in every way was the incredibly gymnastic and amusing Marco Vinco as Leporello. The two sang impeccably and spun forth effortless chemistry in every scene. These were real men who had obviously worked their con game of seduction together for a long time. Too bad there wasn't the same chemistry between any one of the men and women allegedly so in love in Mozart's gorgeous creation.