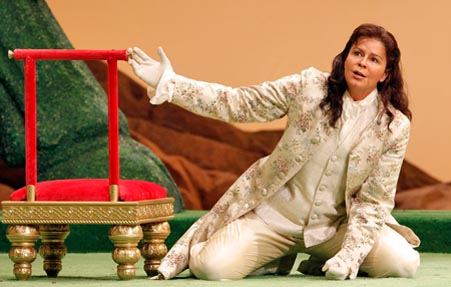 Proving how easily a 250-year-old opera can provide musical epiphany, George Frideric Handel came to San Francisco last week with his delectable pastiche of arias, recitatives, and impossible vocalese —the opera Xerxes.
It was probably one of Benjamin Franklin's favorite operas, this Italian tale of mistaken genders, identities and lovers, written by a German composer and widely performed in London. What San Francisco Opera audiences feasted on at last Saturday's matinee performance was the aural luminescence of seven of the world's finest Baroque singers vying with each other for complete dominance of the gorgeous music, the witty set design and some of the longest, most complex passages ever written for the human voice.
It was a banquet of trills, glissandoes and accelerated arpeggios.
Throughout it all, aria after show-stopping aria, this production was owned by the astonishing Susan Graham (who must be six feet tall). As Xerxes (yes this is one of those operas where men are played by women and not every soprano is necessarily female if you get my drift) Graham was utterly confident, bold, gracefully athletic, believable and stupendous to listen to. Her Xerxes was a pillar of testestorone, commanding and yet pliant in terms of romantic intention.
It shouldn't be possible for humans to sing—clearly and well—for 3 1/2 hours. But Graham did. So did the amazing counter-tenor David Daniels, playing Xerxes' brother. Daniels' voice is a disturbing and ultimately glorious anomaly, and his presence added astringent authenticity to the performance. The two other sopranos, Lisette Oropesa and Heidi Stober sang up into the stratosphere with stuptifying accuracy and ease, while Italian-trained Sonia Prina tore up the stage with her contralto pyrotechnics.
It was a stage full of virtuoso performances, fine acting and lithe, energetic bodies. (Not Wagner, in other words.) Underscoring the voices was an authentically appointed baroque orchestra, smaller than the usual cohort, featuring harpichord, arch lute and baroque guitar—sounds that helped to convince those lucky enough to hear the performance that we were indeed traveling back in time.
Yes, there is Handel beyond the Messiah. You might try to score some tickets for one of Xerxes three remaining performances, Nov. 11, Nov. 16 and Nov. 19.