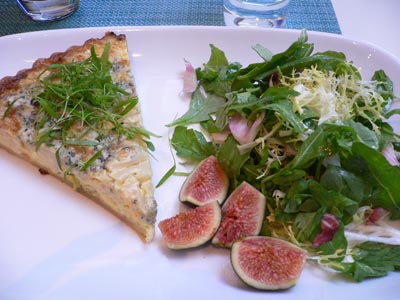 The excuse was the outstanding de Kooning retrospective at New York's Museum of Modern Art, a sleek exhibition setting that lives up to its classically modern name. But the first thing we did was head up to the 5th floor Terrace cafe for a delightfully civilized early lunch. Armed with an appropriate regional wine – a Merlot from Pellegrini Vineyards, North Fork, NY 2006 – we dove into beautiful plates of seasonal flavors.
For my sweetie, slices of organic chicken with marinated squashes and hearts of romaine lavished with mustardy vinaigrette. For me this warm eggy tart of roasted cauliflower and Bayley Hazen blue cheese, with a side fluff of arugula, red endive and fresh figs in lemon dressing. The New York Merlot, an example of the ever-improving terroir-driven viticulture of that region, was sassy and full of tannins—like most New Yorkers—and it made a respectable partner for the understated lunch menu.
After an espresso, and one more glance down at the sculpture garden visible outside the cafe's floor-to-ceiling glass walls, we were ready for Willem deKooning's astonishing masterworks, six huge rooms full of them! "De Kooning: A Retrospective" runs through Jan. 9 at the Museum of Modern Art; (212) 708-9400, moma.org.