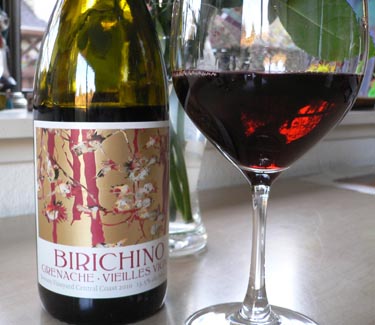 From Birichino comes this wide open bouquet of spices, pepper and black cherries, Grenache Vielles Vignes 2010, Central Coast. At 13.5% alc. it moves all those bright fruit flavors deep into the center of your palate.
The brilliant cherry red wine spreads out horizontally and persists all the way to the end—to the end of that pork loin roast, or pizza, or cheese platter.
Retailing in the $15-$16 ballpark, this lovely wine (perfect for the holidays) is loaded with character and immediate appeal. Look for it at Soif, New Leaf and other enlightened wine shops.