I thought I was going to see George Clooney win an Oscar. I didn't.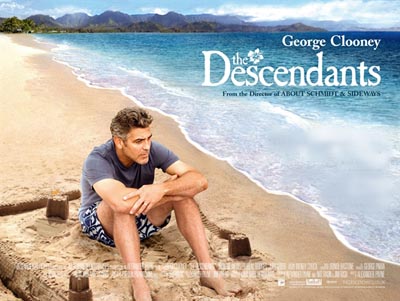 He won't. But The Descendants stayed with me and continued to spin out and unfurl deep-tissue feelings and puzzles and bits of beauty long after I left The Nick last weekend and headed out into the blustery twilight.
The camera loves Clooney almost as much as it loved Marilyn Monroe. There simply are no bad angles on this beautiful man. And while it's clear he can hold the center of a film, he does so by sleight of hand. He is a quiet vortex around which all of the action, the drama, the storming and revelation takes place. Somehow his winning features—the thoughtful brow, the sensitive facial muscles, the glowing eyes, the gorgeous legs—get close to the point, but never quite land on it.
He doesn't convince me, even though his character—an Hawaiian heir to a huge land trust, with two out-of-control young daughters and a dying wife—did.