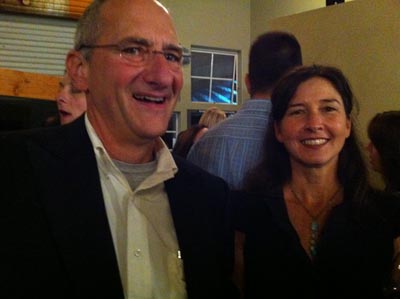 A packed house of friends, family and wine club members greeted the unveiling of the chic, friendly new tasting room showcase for Vine Hill Winery varietals. Finger food catered by Kelly's—divine wood-fired pizza topped with sweet caramelized onions and olives, plus cheese, chevre-stuffed red potatoes and charcuterie platters—was joined by a very long list of wines created by Sal Godinez and his team.
Architect Mark Primack and designer Lore James (also Vine Hill's marketing director) shared the spotlight, and kudos, for their clever interior concept that included rustic antique doors and industrial sconces, as well as barrel-stave panelled counters topped with Carrara marble and polished stainless steel. Vine Hill manager Nick Guerero was clearly pleased with the full house of celebrants.
The good-looking and comfortable armchairs, intimate tasting nooks and long line-up of pinot noirs, chardonnays and syrahs that have put Vine Hill on the Santa Cruz Mountain wine map, will doubtless have wine-lovers coming back for more. The new tasting room, next door to Kelly's, is the latest entry into the suite of tasting rooms and wineries lining this busy Westside complex.