A feast for the mind as well as the eye, the shabby paranoia of Cold War espionage makes a bracing cinematic cocktail, neither shaken nor stirred. A dirty patina of brown and grey adheres to every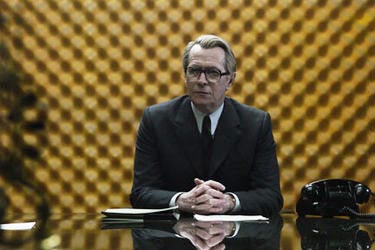 engrossing scene of this version of John LeCarre's spy saga Tinker Tailor Soldier Spy. Relinquish any fears that the indelible performance by Alec Guinness as spy master George Smiley in the archetypal 1973 BBC series might upstage this film version. The confidence of director Tomas Alfredson and his astonishing cinematographer Hoyte van Hoytema will dispel all doubts
Even for those who have read the book and gorged upon the multi-part television series, Le Carré's tale is dense and labyrinthean as only a cold war spy tale can be. This is, after all, a tightly buttoned world in which there are no good guys. The ugly underbelly of bureaucratic betrayal makes a bracing cautionary bulwark for those still under the illusion that espionage is glamorous. There are no Sean Connerys here.
We meet the career MI6 agents—a sorry lot of paranoid professionals who have sold their individual dreams to a collective nightmare—just as a secret deal to bring in a high-ranking Soviet defector has gone horribly wrong. The botched operation leads to the dismissal of the head of the agency "Control" (played by John Hurt) and his deputy, George Smiley (played with haunting restraint by Gary Oldman). Almost immediately, Smiley is pressed back into shadow service to ferret out a double agent, a mole thought to be highly placed within the top tier of "The Circus" (MI6). It's up to Smiley to find the double agent among a quintet of weary, jaded and secretive top brass. These men are career bureaucrats, whose claustrophobic schedule of tracking enemy agents by day and drinking themselves to sleep every night is a bracing antidote to the flashy glamor exemplified by James Bond. Recruited as a double agent while still at school in Cambridge, Carré intended his books to "out" the grim pathology of the Service, where so many spies work so many sides of the street that an individual's identity issues mirror those of the governments they serve. Each agency —MI6, KGB or CIA—plays the same chess game. Same rules, different languages.
The suspects of Smiley's narrowing field of background checks include Roy Bland (Ciarán Hinds), the new head of the service Percy Alleline (Toby Jones), tortured field agent Jim Prideaux (a memorable Mark Strong), Toby Esterhase (David Dencik) and suave Tom Hayden (played by last year's Oscar winner Colin Firth), the latter of whom complicates matters by carrying on an affair with Smiley's wife.  As Smiley conducts interviews and follows deeply buried clues, another storm gathers in which a Circus "scalphunter" (played by Tom Hardy), wants to bring in a Soviet defector who claims to have information about the mole's identity.
Flashbacks do much to fill in the deliciously convoluted back story, as we learn of botched operations in Hungary, defecting spies in Istanbul and the efforts of Control— played by Hurt with magnificent and neurotic weariness— to shape up Britain's secret service, always trumped by the superior intelligence gathering network of the Americans.
Tinker Tailor is a splendid, adult bit of filmmaking. The close-up camerawork lingers upon visual detail, and insists that we must look very closely at every single shot. London in the 70s never looked more decayed and used up. In the line-up of some of Britain's finest actors, faces alone can telegraph nuanced clues as to motives and gnawing fear. Every performance is tight, detailed and restrained. Oldman, following in the huge footsteps of Guinness, does a smart thing in literally building his Smiley's identity upon the fastidiousness of his predecessor.  The glasses, the umbrella, the quiet, searching face—Olman's entire body listens carefully. And he has somehow reincarnated Guinness' voice, which he uses sparingly, forcing us to hang on every possible clue.
That We might be Them, and vice versa, is conveyed especially well in one pivotal scene. At a Circus Christmas party, at which no guest remains sober, Santa Claus wearing a Lenin mask suddenly takes the stage and leads the company in a rousing version of the Internationale. The sight of all these Brits, toasted to the gills, happily singing the Soviet national anthem in word-perfect Russian, says it all. To stalk your enemy, is to love—and be—the enemy.
I won't give away any of the plummy details, except to say that in Tom Hardy—and his indelible performance as a heartbroken killer—we are watching the next huge male movie star emerge. Beyond Daniel Craig, close to Heath Ledger huge.
Every performance rings like sterling, and by the end of the film you want to stay and see it all over again.
Tinker Tailor Soldier Spy, opening Jan. 6 @ the Nick.