If you've seen both of these films then you know what I mean — Hugo and The Artist make terrific side-by-side movie experiences. Each deals with the enchanted, tumultuous world of filmmaking. Each is riddled with the ecstatic triumphs and the anguished failures of the studio system. And, to the credit of the filmmakers, each is obviously a labor of love.
Yet, as I discovered once again last week….timing is everything.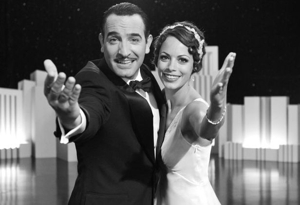 Once I had seen Martin Scorsese's agile love-letter to pioneer silent film director Georges Méliès—Hugo—I was unable to fall under the spell of The Artist, no matter how seductive and winning its leading man, and his scene-stealing little dog. After Hugo, The Artist was small and thin. A tasty amuse l'oeil, but not the generous feast that was Hugo. Perhaps because I am an addict of actual silent movies in all of their historical richness, period authenticity and frame-by-frame atmosphere of discovery, I found The Artist lacking save as a vehicle for Jean Dujardin, an actor who could give charm lessons to George Clooney.
Oh French director Michel Hazanavicius' deserves tons of credit for daring to make a rags-to-riches (and back again) black and white silent film (!) about a rags-to-riches matinee idol of the silent film era. But about halfway through the film, as I sat there waiting for the gravitas to arrive—perhaps some ironic self-reference or  some larger metaphor about silence, about the fickleness of film audiences, that sort of thing—I realized that nope, this was what it was. A smartly packaged, tautly edited, rousingly acted silent film about silent filmmaking, starring an incredibly polished, confident French actor and a superb John Goodman as The Crusty Producer. C'est tout.