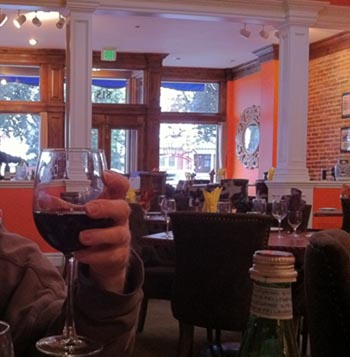 A very attractive Latin Fusion retaurant, Estrella, has just opened in Paso Robles, in one of the old Victorians lining the central zocalo on Spring Street.
The brainchild of Chef Ryan Swarthout (of Roberts restaurant fame) and Travis Borba, the restaurant surfs a culinary wave from South America, to Mexico, and the Caribbean. What we found, last Sunday evening, in addition to a gorgeous vermillion wall next to the old brick, was a menu loaded with intricate spicing and some of the finest black beans this side of Oaxaca.
A dish of Veracruz snapper, for example, gave us a peek inside the kitchen's mind. Instead of the Mexican style of tomato and salsa topping, the fat slabs of snapper were slathered with a Creole braise rife with onions, hot peppers, red bells, green olives and filé spice. Piquante to the max, it was partnered with saffron rice and outstanding black beans topped with quesa fresca.
My braised beef tamales were a little dry, but delicious nonetheless and came with some slow-cooked pinto beans that were nothing short of sublime.
One of the nicest discoveries of our dinner at Estrella was a Tempranillo made by Paso Robles winery Stanger Vineyards. Full of cherries and rhubarb and spice, it was grounded by ample tannins. This wine was perfect—bold enough—to stand up to the highly spiced entrees. We've added Estrella to our Paso favorites, right next to Bistro Laurent.
Estrella is open daily for lunch and dinner – 815 12th Street, Paso Robles.