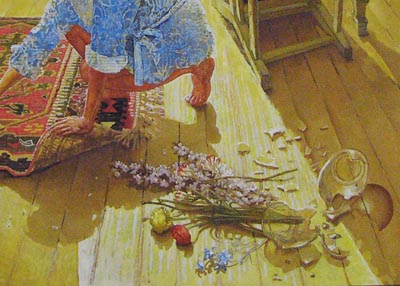 All You Need is Love – one of the finer memories provided by the Beatles – and also the title of the next museum-wide exhibition scheduled for downtown's Museum of Art & History, opening for a Member's Preview on Friday, March 30 – and then to the general public starting March 31.
Running until July 29, the show is dedicated to love in all its forms, as explored by over thirty artists, including Joan Brown, Frank Galuszka (detail shown here) and Raymond Saunders. In addition to the extraordinary artwork, historic love letters, wedding gowns and other sentimentalia will be on display in all of the galleries within the museum.
MAH is open Tu-Sun 11-5pm, and is located at 705 Front Street in downtown Santa Cruz.
(detail, Coyote in the Kitchen, F.Galuszka