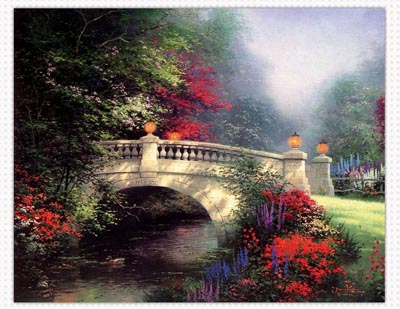 He was one of the angriest men I ever met. Spewing platitudes and autographs with machine-gun precision, Thomas Kinkade was a one-man tent show of strategic branding, cornball imagery and raw, unrelenting ambition.
Now that he's gone I have to wonder all over again just how it was possible for one man to propogate so many vacant, if colorful, fields of magenta, so many technicolor sunsets, so many cabins in non-existent Edens. I researched his background as a better-than-decent painter, tracked the rise of his sugar-coated faux Disney clichés, interviewed him for hours and wrote about him just as his trademarked "light" was about to dim.
Now that the darkness that surrounded his psyche has finally swallowed him up, I also have to wonder just how many azalea fields and snowy Christmas tableaux—always devoid of human companionship—are about to go up for sale on eBay.