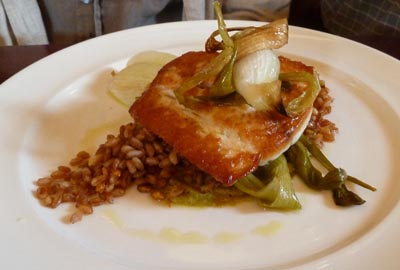 That would be Katherine Stern, who's busy transforming the season into edible orgies of flavor, texture and delight.
Last night we sampled an outstanding entree of roast halibut, toasted farro and roasted leeks sauced with a pistachio pesto.
A great pasta dish and the never-better antipasti plate of mixed salumi (shown below) took us a long way to enlightenment.
Dessert involved four forks and a lovely finishing dish of Meyer lemon semifreddo, incredibly tart and intense, joined by poached rhubarb and delicate pistachio cookies.